After a year hiatus; our Holiday Pancake Breakfast is back! A few changes, but still lots of fun for the whole family!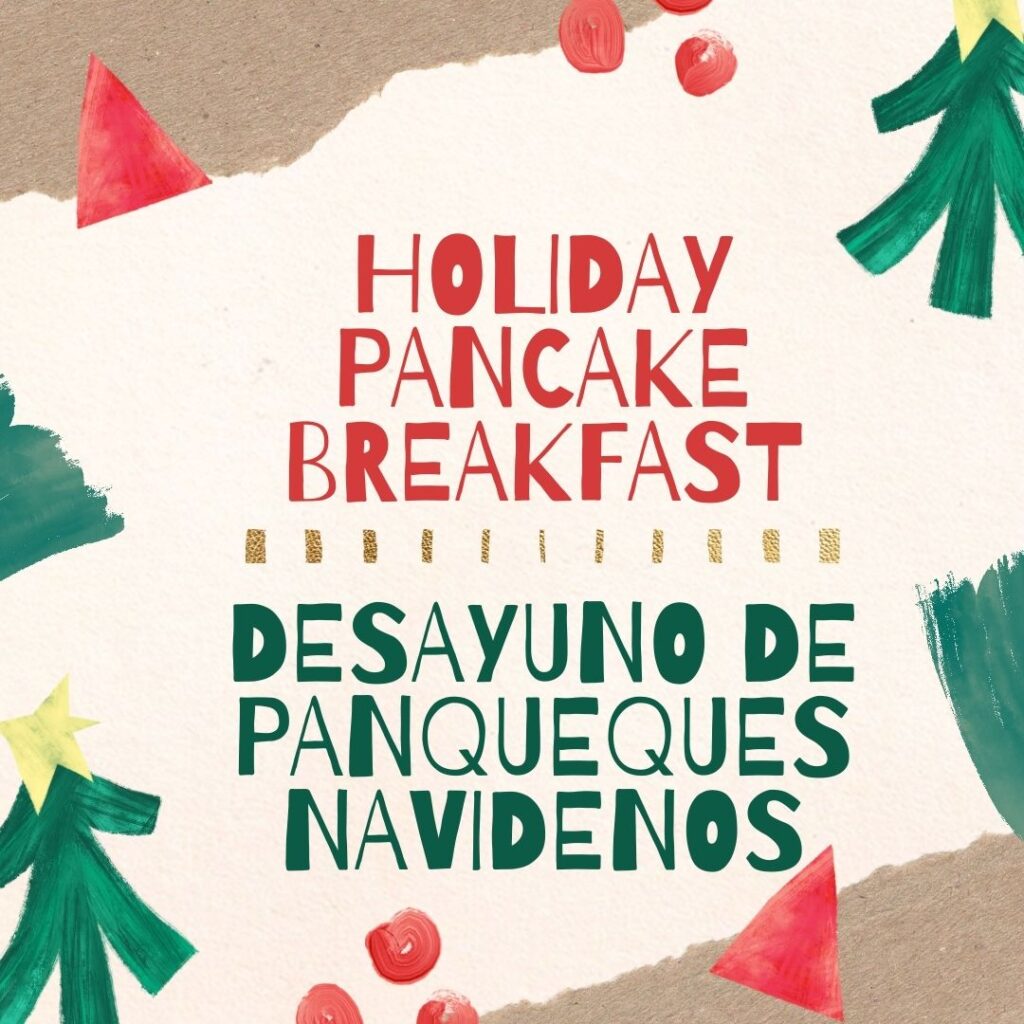 Saturday, December 11, 2021
8am – 11am
We are excited to bring this community event back to SMG this year. Due to regulations, things will look a little different. So please keep reading for details!
Holiday Pancake Breakfast! OUTDOOR event, limited seating. Tailgating or taking your breakfast to-go is encouraged.
Breakfast is PRE-ORDER only, breakfast tickets CANNOT be purchased the day of the event. Please place orders by 12/10 to guarantee a breakfast.
Only raffle tickets and activity tickets will be sold the day of the event.
Due to travel restrictions from the North Pole; Santa may NOT be able to attend the event. But please bring your letter and we will be sure he receives it!
Holiday family photos by the amazing Eszter Timea Photography will be taking place in lieu of Santa photos! $10 per photo; digital download will be sent after the event.
Silent Auction bidding will be ONLINE only; open until 12/11 at 3pm.
Raffles and Silent Auction winners will NOT be announced at the event. All winners will be notified by PHONE after the event.
The weather forecast is CHILLY. This event is OUTSIDE only, so please dress accordingly.
High School and Middle School students needing volunteer hours are invited to help. Contact us at [email protected] to sign up.
Student Performances –
9:00am Kindergarten
9:15am Mrs. Reginato's class
9:30am Folklorico
Please place orders by 12/10 to guarantee a breakfast!
Order forms can be turned in at the SMG front office: Holiday Pancake Breakfast Ticket Order Form
Order tickets online
Want to sponsor a Holiday Tree!? Fill out a sponsorship form
Got donations? We would love for our local businesses to help support our event by donating items for our raffle and/or silent auction.

Grade Level Raffle Basket Donations Help us raise money by donating an item or two for your grade level raffle basket. Please drop donations off with your child's teacher or in the front office by 12/8.
Kindergarten – ART ITEMS
1st Grade – OUTDOOR PLAY
2nd Grade – BAKING
3rd Grade – GAME NIGHT
4th Grade – MOVIE NIGHT
5th Grade – CRAFTING
Middle School – DATE NIGHT (Gift cards, movie tickets, wine, etc)
Cake Walk Donations Donate your cakes, cookies, brownies etc. Drop off baked goods in the front office on Friday 12/10.
When packaging your items, please remember that they will be on display for selection by winners and package accordingly. (For Example: 3-4 cupcakes on a tray, or 6 cookies in a bag)