2019 SMG Community Discount Card
00032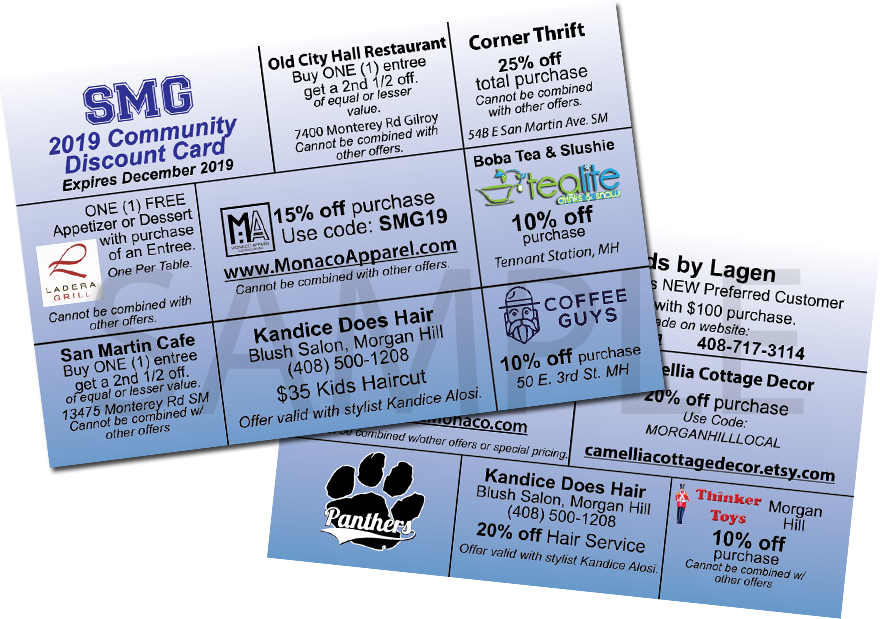 Support our school and local businesses! Discount cards are valid through December 2019, and can be used time and time again! Just show your card at purchase for amazing discounts. Use your card again and again for the rest of 2019!
Discounts and Specials included on our discount card are available at:
Ladera Grill
Old City Hall Restaurant
Corner Thrift
Monaco Apparel
San Martin Cafe
Coffee Guys
Tealite Boba
Kandice Does Hair @ Blush Salon
Rodan & Fields by Lagen
Briana Monaco Photography
Thinker Toys Morgan Hill
Camellia Cottage Decor Signs
-----------------------------------------------------------------
¡Apoye a nuestra escuela y negocios locales! Las tarjetas de descuento son válidas hasta diciembre de 2019 y pueden usarse muchas veces. Solo muestre su tarjeta en la compra para obtener increíbles descuentos.

Descuentos y ofertas especiales incluidas en nuestra tarjeta de descuento están disponibles en:
Ladera Grill
Old City Hall Restaurant
Corner Thrift
Monaco Apparel
San Martin Cafe
Coffee Guys
Tealite Boba
Kandice Does Hair @ Blush Salon
Rodan & Fields by Lagen
Briana Monaco Photography
Thinker Toys Morgan Hill
Camellia Cottage Decor Signs




Delivery Option
Deliver to my child's classroom (0) Leave in front office for pickup (0) Mail to address on order (0)