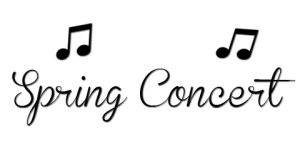 Order your SMG Spring Concert 2017 Video
We're pleased to announce we'll have this year's SMG Spring Concert professionally recorded and edited into a DVD. No more shaky video recordings or muffled iPhone audio! Purchase a copy to preserve the memory, and don't forget an extra copy for loved ones who couldn't attend the performance!
Concert DVD will include all performances including Drum Club, grade level classes, and SMG After School Mariachi.
DVDs are $10 each ordered by May 31st, or $15 after June 1st if inventory still available.
DVDs will be available for pickup at SMG Office after June 5th
Order Here!
ORDER BY CASH OR CHECK: To order with cash or check (made payable to San Martin/Gwinn Home & School Club), print and fill the order form and turn it in at the San Martin/Gwinn office. You can print an order form here: SMG Concert DVD Flyer May 2017 FINAL
ORDER ONLINE: To order online and pay for tickets via PayPal, please start by completing the form below. This is a two step process, so after providing us your contact information, you will be taken to an online PayPal shopping form to complete your purchase.
If you are not redirected after clicking the submit button, please click here.