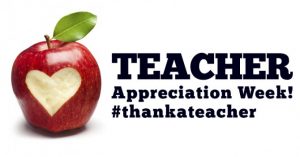 Ways to make our teachers feel special!
Monday: Students, send some always needed school supplies to get through the end of the year.
Tuesday: Our teachers will enjoy a special delivery from our coffee and Pastry cart – see below on how you can help!
Wednesday: Students, bring a flower to create a bouquet to brighten your teacher's classroom.
Thursday: Students, bring a card or poem to make them smile.
Friday: Teachers will enjoy a delicious lunch. Please sign up below to help us!
Not sure what your teacher likes? Stop by the SMG Office to check our "What I Love" Binder for their favorite flowers, gift cards, drinks and more.
————————————————————————————————————————————————
Parents, Grandparents, Aunts, Uncles, and SMG Friends
During teacher appreciation week we would like to create some special snacks and lunches for our teachers to enjoy. Please help us make this a special week! Email us at hsc@pantherparents.com and let us know what you can bring!
Tuesday BREAKFAST: I can donate items for the coffee cart; Donuts, Pastries, Pan Dulce, Cut Up Fruit, Hard Boiled Eggs, Yogurt Parfaits, Granola Bars, Juice, Brewed Coffee (MUST BE DROPPED OFF BY 7:30AM ON TUESDAY 5/7)
WEDNESDAY: Snack Attack: I can donate snack items; Veggie Tray, Hummus, Nuts, Fruit Platter, Crackers, Cheese, Candy, Drinks
THURSDAY: COOKIES & MILK: I can donate cookie items; Cookies, Coffee, Bottled Coffee, Juice
FRIDAY: CATERED LUNCH: I can donate items for the teacher luncheon;  Fresh Fruit, Salads, Desserts, Drinks