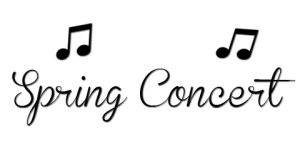 Join us for our spectacular School Wide Spring Concert!
Enjoy a night of music by our Percussion Ensemble, Student Singing, and a musical performance by our After-School Student Mariachi Group.
Event time and date: Wednesday, May 24, 2017
6:00 p.m. -7:30 p.m. (seating available starting at 5:30 p.m.)
Location: Morgan Hill Community & Cultural Center Amphitheater
17000 Monterey Rd. Morgan Hill, CA
Attendees will have two seating options for enjoying the concert. We will have folding chair seating for 300 people, or families who prefer to go "festival style" can bring a blanket and enjoy the show.
Order your SMG Spring Student Concert 2017 Video Now! Click here for more details.
Reminders
– Attire: Students should wear white blouse/shirt and jeans
– Make sure to eat something before the concert
– Students be there by 5:30pm and check-in at stage
We look forward to seeing you, friends, and family at this special event!