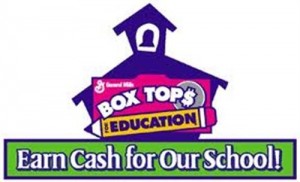 Dear San Martin/Gwinn Families –
Welcome Back!! I hope you all enjoyed your summer!!
We are ready to begin the Box Tops for Education collection program. Each Box Top is worth $0.10 to San Martin Gwinn. If each student turns in just 25 box tops, we will have raised about $1,200.00 for our school. Simple!
A collection sheet will be sent home at the beginning of each month in Thursday envelopes. Please attach (unexpired) Box Tops to the empty squares. Make sure each sheet is labeled with a name and teacher so your child and his/her class can get credit. Attaching the Box Tops to the sheets is preferred, but if not achievable, place them in a zip lock bag, labeled properly. Students can turn these in to their teacher at anytime. If you need additional sheets, feel free to make copies or ask the front office.
Each time a child turns in a sheet of 25 Box Tops, he/she will have their name put in for an end of the year raffle (6 $5 Jamba Juice Gift Cards will be raffled). I will coordinate a couple other contests -something like a hot chocolate & donut party just before holiday break and an ice-cream sandwich social just before school is out for the best supporting class & the top contributors in each class.
A tracking sheet will be created and updated weekly for all to see.
This is a great (and easy) way to raise funds for San Martin/Gwinn. First submission must be received by November 1st! So, start clipping and ask everyone you know to clip for you too! 😉 If you have any questions, please feel free to contact me.
Thank you for your support in raising funds for our school.